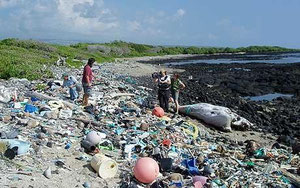 Tja, so ab und zu hört man mal wieder was vom "Plastikstrudel" im Meer. Ich fand diesen Bericht erschreckend aber gut geschrieben.
Das lesen informiert einen halt.
The original, english Version you will find at the end of the text.
Der "Great Pacific Garbage Patch", ein im nordpazifischen subtropischen Wirbel schwimmender, etwa zehn Meter dicker Müllberg von der doppelten Grösse Frankreichs (also etwa 1,35 Millionen Quadratkilometer) besteht zu 90 Prozent aus Plastikresten und tötet jährlich Hunderttausende von Seevögeln und zehntausende Meeressäuger und Schildkröten. Am Kamilo Beach, Hawaii, besteht der Strand aus mehr Plastikteilen als Sandkörnern, ausser man gräbt tiefer als 30 Zentimeter.
Die wichtigste Quelle für marinen Plastikmüll sind Plastiktüten und Plastikflaschen, hiervon könnten wir alle einfach etwas weniger verbrauchen. Die weltweite Schiffahrt wirft täglich etwa 639.000 Plastikbehälter über Bord, aber 80 Prozent des giftigen Mülls stammt vom Land, wo er aus Mülldeponien oder Herstellungsanlagen herausgeweht- und geschwemmt wird.
Und jetzt die gute Nachricht: Innerhalb unserer durchschnittlichen Lebensspanne werden die weltweiten Rohölkommen versiegen, dann ist Schluss mit dem billigen Wegwerfplastik. Bis dahin dürfte sich der biologisch nicht abbaubare Plastikmüll in den Weltmeeren allerdings vervielfacht haben.
Quelle: http://www.telegraph.co.uk/earth/environment/5208645/Drowning-in-plastic-The-Great-Pacific-Garbage-Patch-is-twice-the-size-of-France.html